Testimonials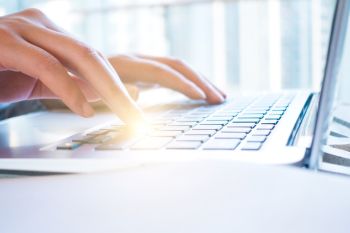 Touch typing doesn't have to be boring! In fact, most children really enjoy their course with NMTT. See below for comments from parents, teachers and students:
"Dear Naomi, Thank you so much for your report. The boys really enjoyed doing the course and we are all thrilled at their results. We definitely intend to keep them practising and will use the websites you mention. I have already been recommending your course to friends!"
Sara Reynolds, parent
"Sam seems to have done really well with his typing - I have just assessed him for laptop use, and we are getting him going on a laptop asap. Thanks for your effective tuition! I'm sure that we will be sending you some more of our pupils soon."
"Dear Naomi, Thank you for the report.
Just to say Bruno said to me over the weekend "that's the best typing course I've been to...thank you for sending me". We've tried a few courses with limited success but he really enjoyed this one. He also remarked on how interested and involved you and the other teachers were in helping all the children to progress.
Thanks again!
Parent, Wetherby Prep

Thank you for the detailed report - I'm so happy he took the course, enjoyed it so much, and learned as much as he did! We will for sure do a top-up either next break or summer!
I had been meaning to write to let you know how much they both enjoyed the course. S was keen from the outset but I must admit J was a bit sceptical when I mentioned he would be doing touchtyping. They had so much fun to the extent that J said "it is even more fun than football" (which is his favourite thing in the world!). They both want to go back!
Mother of 12 year old boy and 10 year old daughter
Timur had a blast and loved your course. Both yourself and your team are lovely, encouraging and specific to each child! We will definitely return...
Nalan, Thomas's Battersea
Parent
"I have known a lot of touch typing teachers and I have taught with and practiced on many online programs. Honestly, the best results, consistently, have been from Naomi Martin. Learning to touch type isn't vastly fun, it is a system which has to be learnt and then practiced. Naomi does this well."
Amanda Stocker, SEN teacher
My son did one of your courses a few years ago now. He did the course once and then practiced at home. He has learned how to type beautifully and it has helped him soooooo much with his dyslexia. Thank you!
Thank you so much for getting the girls typing. They are fabulous at it now and type as fast as I do. What a gift!
"Thank you so much for your email updating me on Charlie and Flora's progress with you last week. Having thought that learning to touch type would be something of a chore they were delighted to find that you made the process so much fun and they are both thrilled to have made such headway in such a short time. You will be pleased to know that they - and I - have recommended you to all their friends... I will make sure that they practice so that they are unstoppable by the time they go back to school in September!"
Parent, Harrodian/ Putney High
"Forgot to thank you in my last email for getting William up to speed so quickly. He's taken to typing like a duck to water and it's all thanks to you. He loved your course and he loved coming to your home and typing with all the other children. Alice has been on other typing courses and she says that your one is definitely the best (not boring!) She said that she liked the camaraderie with the other children and also the TV/biscuit break!"
"I assure you I shall be delighted to recommend your courses again when I am asked. *Student* was really quite reluctant to be persuaded to enrol, but both she and her mother were delighted with the results. Many thanks"
Teacher, Wimbledon High
"Thank you so much for all you (and your team) taught Xan this week. He was (and is) very fired up about his touch typing. He hasn't stopped touch typing since the course finished… he has come a huge way, and seems keen to go on practising, so long may that last!
Parent, Thomas's Clapham
Who knew a teenage girl could be so excited and enthusiastic about a typing course her mother had arranged!!!
Great result, thank you!
Mother of 13 year old daughter
"Thank you so much. The course was a great success. To send a 14 year old boy on a typing course in the summer holidays and have no complaints is amazing!"
Parent, Radley
"I don't know how you make it so much fun - but whatever you do, keep doing it! They had such a marvellous time AND they learnt how to type... Amazing!
"
Parent, Northcote Lodge
"Thank you so much for the fantastic week of touch typing. James loved it (much to our surprise) and made terrific progress, so we were all thrilled. He will definitely be taking part in your refresher course over half term"
Parent, Weatherby Prep & Bute House
"Thank you so much for the
typing
course and the
report
. I think Henry has benefited greatly from your instruction, as he has not only improved his
typing
speed, but realised that practice really does make a difference! It is great that you offer a
typing
course that is suitable for both children and teenagers in Fulham, as
typing
is such an important skill to have now".
Parent, Harrow
"Some clubs in the holidays make you feel like you want to be at home... but this one is really fun!"
Iris, 11
"Dear Naomi,
Thank you for the great support you provided through your excellent touch typing course.
Student really enjoyed the classes so much that he was rather upset
on Friday
that the course had finished! Thank you again."
Parent, A
rnold House School
"Dear Naomi, My boys said they had the best time ever and can't wait to go back tomorrow! *Student* said the 90 mins seemed more like 5 mins! They have recommended that their sister should do the course too as they said she'll love it. I am so pleased they enjoyed themselves!"
Parent, Ludgrove School
"My son much enjoyed your course and clearly benefitted from it hugely. He was very proud of his newly acquired skills"
Parent, Newton Prep
"Thank you for the very positive feedback on Lilly. She really had a wonderful time on your course! She had been dreading it, but much to my surprise, came out happy and smiling that first day and all the subsequent ones. She was very pleased with her improvement in touch typing and asked if she could do another course! You really made learning fun for her. I will certainly send my son to you when he is old enough".
Parent, Thomas's Kensington
"Our Son's typing improved greatly during the course. He really looked forward to the class each morning, and Naomi and her team's cheerful style and techniques had him very motivated and kept him interested all week!"
Parent, Westminster Under
"Archie really enjoyed the course and he finds it really fun, so is very happy to practice at home. Thank you for teaching him again. The course has been a real success for us".
"Clare really enjoyed the course and sounds like you make it great fun. Thank you! We will definitely consider a refresher at some point"
Parent, Heathfield School
"Thank you... He loved the course and we loved how easy it was to enrol and get to it!"
Parent, Latymer Upper
"A week with NMTT was time very well spent. Max had fun and learned a lot... This definitely makes sense. I can see that Max is much more self sufficient when typing his homework."
Parent, Westminster Under
"My son's typing is much improved and more importantly, he enjoyed the course - my older children had told him how unpleasant it is to learn touch-typing and he was pleasantly surprised by how much fun you made the process"
Parent, Westminster School
"My son Sam (15) was taught by Naomi and I can recommend her (and have). It is important to have a friendly and positive approach when working with teenagers and she quickly put my son at ease which was half the battle! He is now a competent touch typer and hasn't gone back to two finger typing."
Catherine Fennimore, Harrodian School parent
"My daughter really enjoyed her first week with you as she said you made it such fun. Her progress was simply incredible from just 5 sessions. She remembers all the three horizontal rows of letters and although her typing is still slow, she feels very encouraged to keep on going. Definitely has given her more confidence with using the computer for schoolwork".
Parent, Hurlingham School
"The course was great. It was well structured and friendly. Naomi was really kind and it made me improve a lot. It now really helps with homework. I will now type in exams and it will make my life easier"
Francis Walsh, Westminster Under (student, aged 10)
"Archie absolutely loved the course and was very eager to come home and play the fun games that were used to practice. Naomi was extremely encouraging and made the whole experience very enjoyable for him. His touch typing has flourished with the help of the course."
Elizabeth Day, parent at Newton Prep
"You are several of the boys' new favourite teacher... they all seemed to have enjoyed your course so much!"
Iain Hepburn, Teacher, Westminster School