Typing Courses: Description, Dates & Times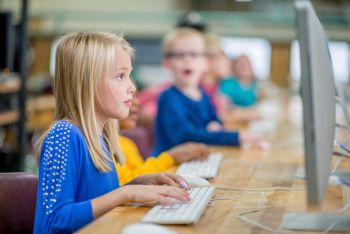 *For future course dates & times see below - Currently taking bookings for the Summer holidays & beyond! Email [email protected]
Weekly Beginners course (£250):
A back to basics approach - All letter keys are taught, including punctuation and capital letters.

By the end of the week all children will know how to touch type - the only variant is the speed.

Students will learn the importance of having the correct typing posture and p

roper typing technique is stressed

Students will be encouraged to focus on accuracy over speed and to not look down at the keyboard

Small group sizes ensure that each student gets the individual attention s/he needs
Weekly Intermediate / Refresher course (£250):
This course focuses on improving speed and accuracy for those that already know how to touch type.

We will focus on honing technique through a range of methods - including copy-typing, dictation and creative writing
NB. Beginners and Refresher Courses run simultaneously. Children are sat according to age and ability/ experience. There will be a break half way through class for drinks/ snacks.
Summer Holidays 2022
Monday 11th - Friday 15th July @ Mount Road, SW19 8ES
5 day signature course - £250
9.30am-11am - fully booked - wait list only

11.30am-1pm -

limited availability
OR
2.00 - 3.30pm - places available
Monday 18th - Friday 22nd July @ Fulham Boys
5 day signature course - £250
10-11.30am - places available
Monday 25th - Friday 29th July @ Fulham Boys
5 day signature course - £250
10-11.30am -
limited availability
Monday 1st - Friday 5th August @ Fulham Boys
5 day signature course - £250
10-11.30am
-
places available
Monday 8th - Friday 12th August @ Fulham Boys
5 day signature course - £250
10-11.30am
-
places available
Monday 15th - Friday 19th August @ Fulham Boys
5 day signature course - £250
10-11.30am -
places available
Monday 22nd - Friday 26th August @ Fulham Boys
5 day signature course - £250
10-11.30am -
places available
Tuesday 30th August - Friday 2nd September @ Fulham Boys
4 day course - £200
9.30am-11am - places available
11.30am-1pm -

places available
Monday 5th - Wednesday 7th September @ Mount Road, SW19 8ES
3 day intensive course - 2hrs per day - £200
10am-12pm -
places available
(due to the more intense nature of the course, only suitable for children with good concentration levels - aged 9+ recommended)
October Half Term 2022
Monday 17th - Friday 21st October @ Fulham Boys
5 day signature course - £250
10-11.30am -

places available
Monday 24th - Friday 28th October @ Fulham Boys
5 day signature course - £250
9.30-11am -

places available
11.30am-1pm -

places available
Christmas Holidays 2022
Monday 12th - Friday 16th December @ Fulham Boys
5 day signature course - £250
10-11.30am -

places available
Monday 19th - Friday 23rd December @ Fulham Boys
5 day signature course - £250
9.30-11am -

places available
11.30am-1pm -

places available